As Healthcare Professionals, we have too much documentation and not enough time for patient care.  We want to do the best for our patients, but we don't have the right tools.  We understand that delirium and lack of early mobilization devastate our patients when they leave us, but we must keep them safe while they're in our care, and we must care for other patients at the same time.
With the new restraint alternative called the Exersides Refraint System, we can SAFELY titrate restraint and sedation to find the healthiest state for our patients without spending all our time in one room. The Refraint entrains lines and cords and allows patients to move their arms without getting tangled in tubes, IVs, and other medical equipment.
The Exersides Refraint is quick and easy to put on and take off and you can organize all of your IVs and cords with the device so they won't tangle.  The Refraint is soft and gently touches the patient in only 2 spots and it adjusts to different size patients.
Different levels of restraint or Refraint  let you set it however you want while you wean sedation.  When it's not a restraint, you won't have to stop your workflow to document so often.  The exercise bed strap allows the nurse to titrate it to make sure both patient and staff are safe.
Patients can SAFELY perform active range of motion (AROM) all on their own or even with family members.  The BONUS is that it reduces our workload and documentation too!
In a Pilot Study performed in 2017, patients who wore Exersides used less sedation, had better agitation scores and both moved and interacted more.  A Phase I trial proved safety.  Ordering a Refraint instead of a restraint assures patients can receive restraint & sedation minimization continually.
Nurses can feel safe allowing patient movement and focus to allow impromptu patient examinations and earlier weaning strategies. Exersides also allows therapists to instruct patients in self-exercise including resistance exercise using the exercise bed strap.
Do you have signs in your ICU that say you strive to reduce delirium or engage in early mobilization?  Now you can say it and mean it!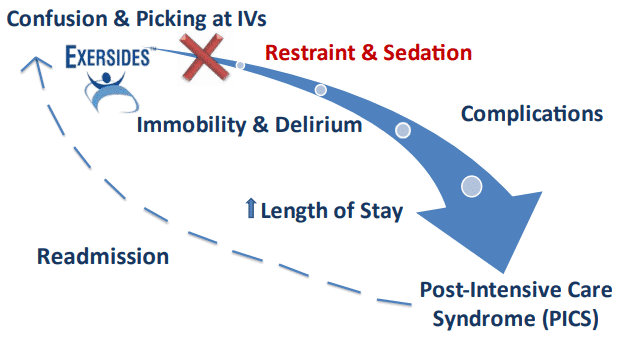 Physical therapists have the potential to positively impact many sequelae of critical illness.  Critically ill patients requiring mechanical ventilation are least likely to be mobilized and, as a result, are at-risk for prolonged complications from weakness.  The use of bed rest and sedation when caring for mechanically ventilated patients is likely shaped by historical practice; however, early mobilization, with little to no sedation, is possible and safe.  
Assessing readiness for mobilization in context of progressing patients from passive to active activities can lead to long-term benefits and has been achievable with resource-efficient implementations and teamwork.  Our patients benefit the most when we are advocates for a culture of early mobility in our ICU's.